Listen to Donald Lim, COO of DITO CME, discuss how COVID-19 is challenging businesses to "master the business pivot" - and provide sensible digital marketing advice for industries in various segments.
Happened last September 2, 2020
BERNARD SAN JUAN III:
Hi everybody and thanks for joining us this afternoon. I'd like to welcome everybody to Truelogic DX. For a lot of the people who are participating, you already know who I am – I've probably met a lot of you guys in person.
The reason we decided to start this session is because this is a successor to the digital conversations that we began four years ago, beginning with "Digitize the Philippines."
For any of you that have ever attended events we've hosted, or any events that we've spoken at, you'll know how we stress that these are conversations. The quality of the interaction – the quality of your interaction – makes this session more meaningful.
So if you've got the ability to turn on your cameras, we encourage you to do so. Take notes if you must. And if you've got questions, drop your questions in the comment box, where our moderators will line them up for us, and we'll answer as many as we can on the latter part of the programme.
I'd like to stress again: what you put into the experience will, or what you get out of the experience, depends on what you put in.
So I'd like to begin the conversation off by saying that when we began sheltering in place on March 16, I actually thought I had some downtime on lecturing, seeing how we can't get together, all venues are closed. But requests for sessions like these have actually only increased. It's mind boggling! Personally, it's understandable, given the current situation that we're in.
So before I get started, and before I introduce the guest that we have this afternoon, I want to do a quick lay of the land by talking briefly about the situation that we're in.
Everybody knows the downside about the economy that's slowing down. Every country's feeling it – a once in a lifetime, once in a century event that nobody could have predicted.
But in spite of that, there are some slivers of hope. I think in 2020 alone, online payments in 2020 are up. There's always been friction in creating true contactless, fully digital transactions in the Philippines, given the size of the population that's unbanked, and even fewer credit cardholders.
When the Bangko Sentral started accounting for online transactions in the Philippines, it was at 1% of all transactions; that translates to about 26 million online payments per month against 2.5 billion transactions. But at the close of 2018, that amounted to about 490 million transactions per month. As you can see, it grew by a factor of nearly 20.
Total digital commerce has grown by 40%, and that's already net of rights sharing. That's the amount of people buying things online, because online is now the only place where we can get our stuff. The Philippines' annual increase usually dances at 21-24 percent. But in 2020 alone, versus the same period in 2019, it's grown by 40%.
Internet penetration in the country has increased. Normally it's about 44 percent. If you listen to Google, 44 percent; if you listen to Facebook, 65 percent. Philippine ISPs have reported that in June they've seen roughly a 16 percent increase in subscriptions – and the utilization of the internet is higher.
Even small businesses are adapting, right – you're seeing these people that are running their stores, and they're creating Facebook merchant pages. And right before the lockdown, only 31% of Filipino adults could pay digitally, and only 15% of merchants had the ability to accept online payments. The pandemic has drastically changed this, with aggressive campaigns coming from brands like BDO, Visa, Paymaya, and Union Bank, just to name a few.
Everything I've outlined so far shows how the crisis has created opportunities, and how necessity can be the mother of invention for all of us. People have taken to digital – and it's probably irreversibly accelerated the adoption of Filipinos to digital by leaps and bounds.
So, having set the background for our conversation, let's get started!
We're lucky to have one of the most admired leaders in digital marketing – actually, I would say, digital and marketing – with us today. I am not sure that Donald needs much of an introduction; I think his name is a household name. If I were to describe his career, it's been very incredible. He's been a leader in marketing and digital for almost as long as I've been in digital.
He's been trailblazing in companies like Yehey, ABS-CBN, Dentsu Aegis, and now Udenna. And I'm not even talking about the side projects. So: to introduce the topic of the afternoon to us and get us a better lay of the land, let me introduce and welcome Mr. Donald Lim. Donald.
DONALD LIM
Hi, Bernard. Thank you. Thank you for having me.
Bernard:
No, Thank you for joining us! I think everyone is interested to know what your insights are, so we'll give a couple of minutes to dive into some of your insights.
Donald:
Sure. Thank you. So when I was asked to share my insights I felt that it would be best if I shared with everyone a quick presentation [of] no more than 10 minutes.
Just to give everyone a perspective: for the longest time, for the past one hundred, more than one hundred days, we've seen how our businesses, our lives, have changed, like you said, Bernard. And I think the biggest, [most affected] are really businesses.
What is really very challenging sometimes and hurtful for a lot of businessmen is that we've been successful in some way or form. The economy was doing well, everything was doing okay. And then, you know, this pandemic came about, and we realize, okay, we're helpless.
For example, me, – I'm also a businessman; my last four investments are into restaurants or are related to that. So now we're thinking about, "Do we close or do we not close?" Is the pandemic, will it stay forever, or hopefully with the regular quarantine, will we be able to do business?
Just to give another perspective: I'm with Udenna and this are the Group of Companies [shows diagram]. And like what I've said, it's also… Our flagship is Phoenix, 888 is Conti's and Wendy's. Those who are on the retail side of course are very much hit.
So imagine one day you wake up, and the president says, no one's going out. Imagine all the gas stations are empty, all the restaurants are not open, right, or things like that – and that's the reality we face. Even for example our shipping line, 2GO, Super Ferry – all of that. No one's riding.
It was really a wake-up call for all of us. And to think that some of us are professors; we're experts in our field. And you realize, whatever you thought, just throw it out the door, because you cannot apply them anymore. No.
So let me start by saying this is my favorite quote during this pandemic.  This is Rahm Emanuel, the former mayor of Chicago, who said, " You never let a serious crisis go to waste. And what I mean by that, it's an opportunity to do things you could not do before."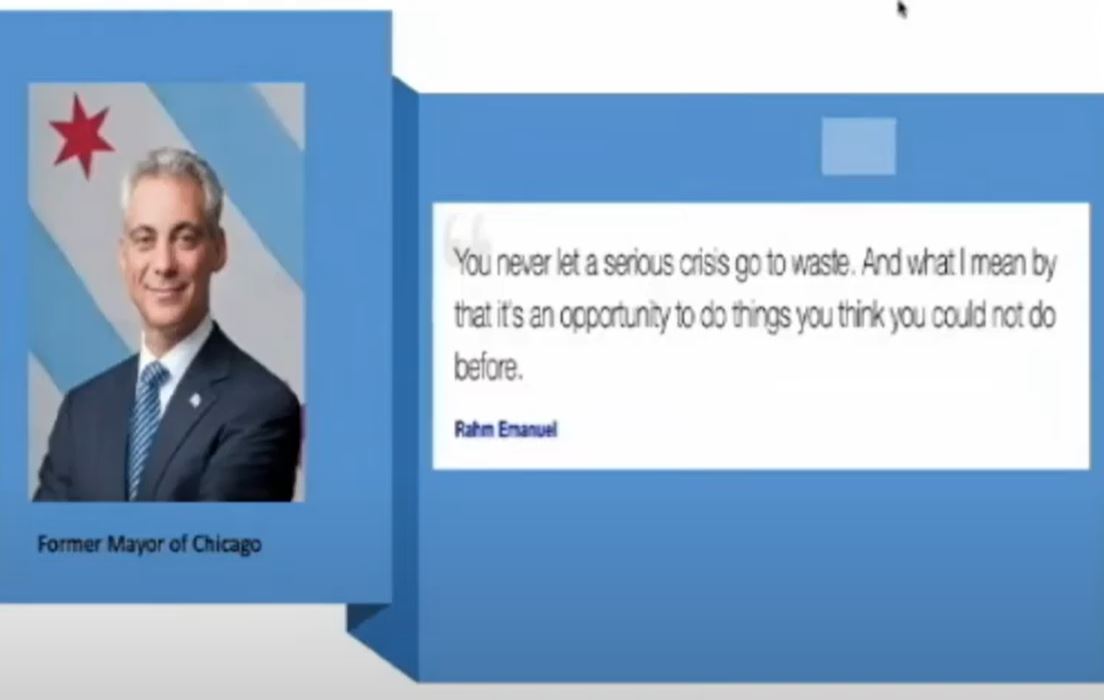 Hopefully, this is also a wake up call for us.
Maybe we don't want to dwell on the negative, on what we can't do, but actually focus on what we can do and what we should do.
So if you take a look at the perspective. Now why is this very challenging for most of us,. I think, if this were – sana – this was the SEA games, or the Asian Games medal tally, it would have been nice.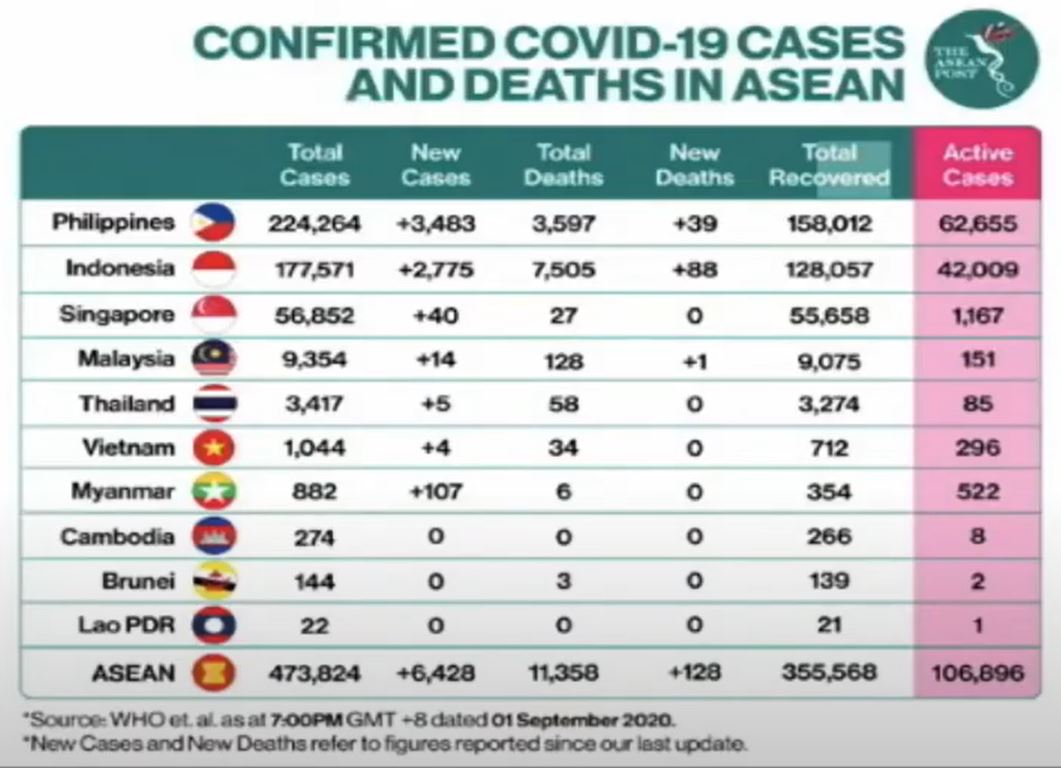 But the reality is, that's the total number of [COVID] cases. This is updated as of September 1: 224,000. Which is almost the size of the United States already in terms of the total cases. We have 62 live cases, and that's a bit worrisome. But at the same time, we've reached a point where we are not going to flatten the curve anymore.
There's no such thing as flattening. We will live with the virus. And I think that's the reality all of us in business are taking [in].
It's okay. We will not flatten the curve because there's no hope, maybe, in flattening the curve – maybe next year na yon. So this year, we will live with the virus. We will have to open our doors and our stores, and we have to interact.
It's going to be – every day – facemask, face shield, out. We're fully garbed, so that when we go out there… That's how we're going to do business, how we're going to transact, and how we're going conduct meetings.
Yesterday, I was in the office, and even our guard… I was going to the washroom, I forgot my face mask, and he said, sir, sir, you cannot go. There are like five people in that massive floor, but I still have to wear a face mask. That's a new reality for all of us.
And why is this so interesting, and at the same time challenging. The challenge – like many of us have never seen before.  These circumstances are taking us beyond our knowledge and capabilities.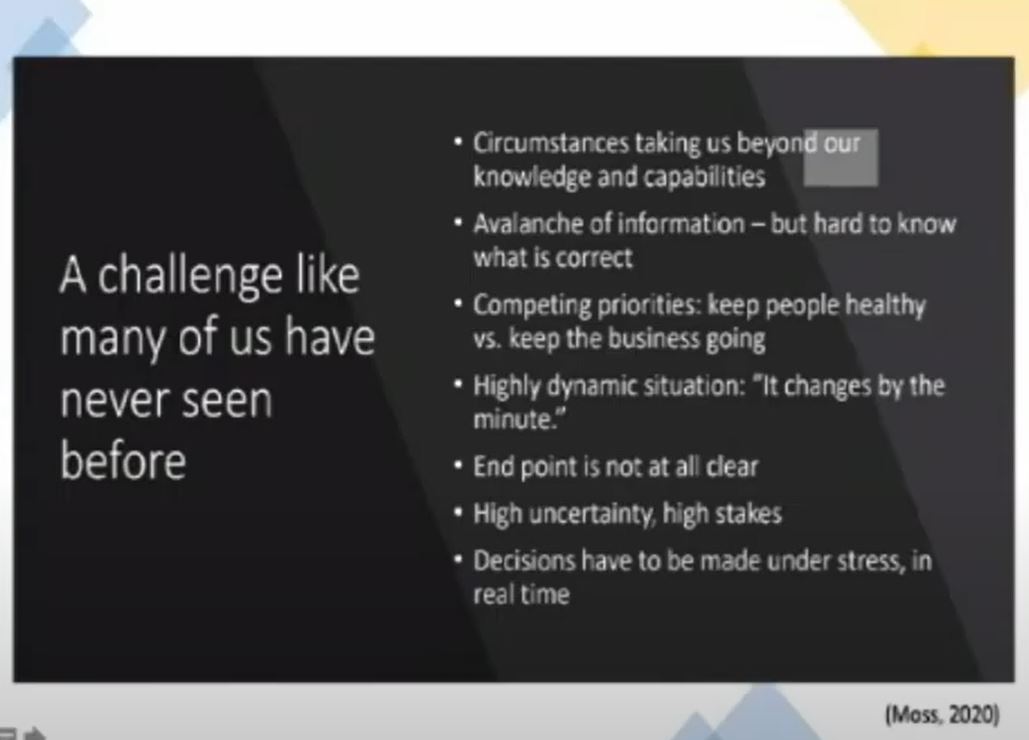 There's an avalanche of information; hard to know what is correct.
There are competing priorities. Do we still.. do we want to keep our people healthy – tell them to work from home, or do I want to keep the business going? The business is going….many of us in retail know we have to get people inside the store and man the store.
This is a highly dynamic situation that changes by the minute. We will not know what our president will… you know, tomorrow or today or whatever.
It's going to be enhanced quarantine, modified – whatever quarantine you call it. It's highly dynamic and the endpoint is not at all clear. High stakes, high uncertainty…and decisions have to be made under stress in real-time.
So it's not as if we don't we have enough problems with our business already. Now we have to contend with real external macro effects that are happening. And having said that, how I would term 2020 – I got this from my head of strategy at Dentsu – 2020, in summary, is what you call The Great Pause.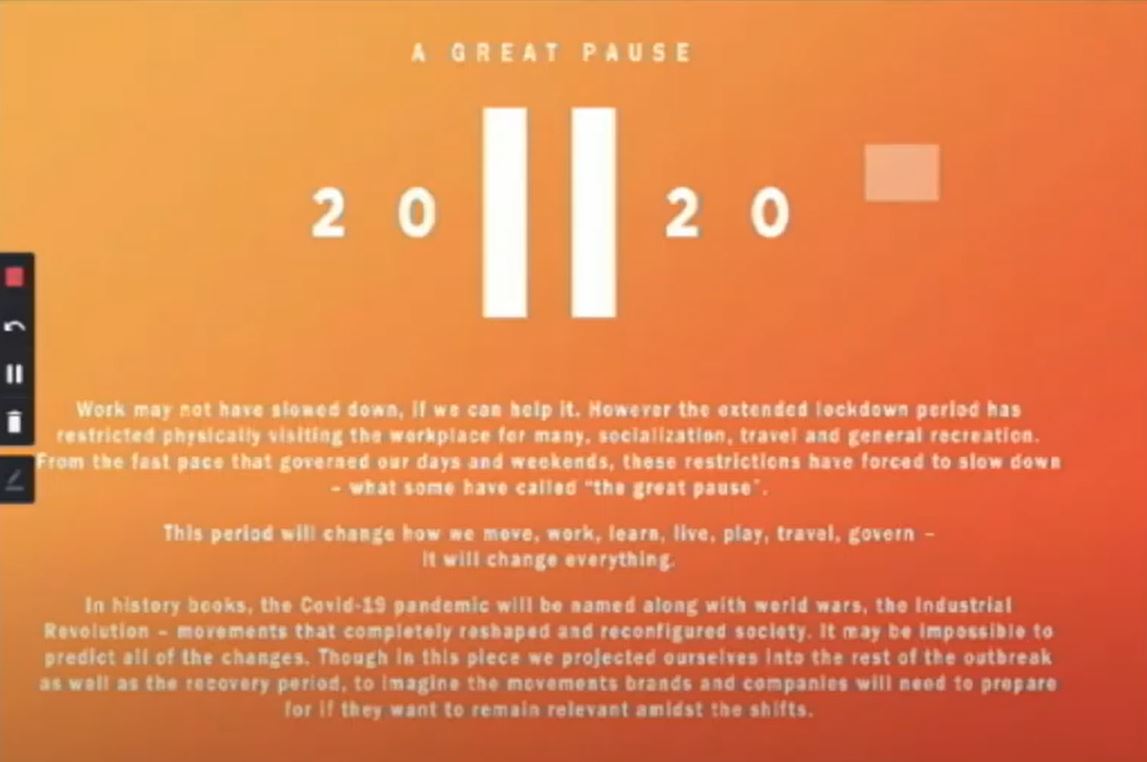 Work may not have slowed down, if we can help it. However, the extended lockdown has restricted physically visiting the workplace for many, [ as well as] socializing, traveling, and general recreation.
From the fast pace that governed our days and weekends, these restrictions have forced us to slow down – what some call The Great Pause. This field will change how we move, work, learn, live, play, travel, govern – and it literally will change everything. And in the history books, the COVID-19 pandemic will be named along with the World Wars, the Industrial Revolution… And these are movements that completely reshape and reconfigure society; that's how we will be living moving forward. If you think about it, this is also one of the biggest news.
Some of you may be old enough [to remember] the 1997 financial crisis. At that time, most of us were graduating from college. And, you know, we felt the pinch there. But a lot of the businesses were still continuing. This was a real-time when you've seen so many businesses [affected], and it's getting nearer and nearer to home.
Because we're seeing, not only one, two, but many of our friends are getting unemployed.  One, two, and more of our friends are getting "uy, na-positive si..ganyan". And of course, one two of our friends' businesses, or someone within our circle, is closing down because of COVID.
When you google "COVID", when you Google "COVID business closures", even big institutions have actually closed down. Marco Polo Davao. You're seeing the Honda Isuzu dealerships. Actually, there's a long list.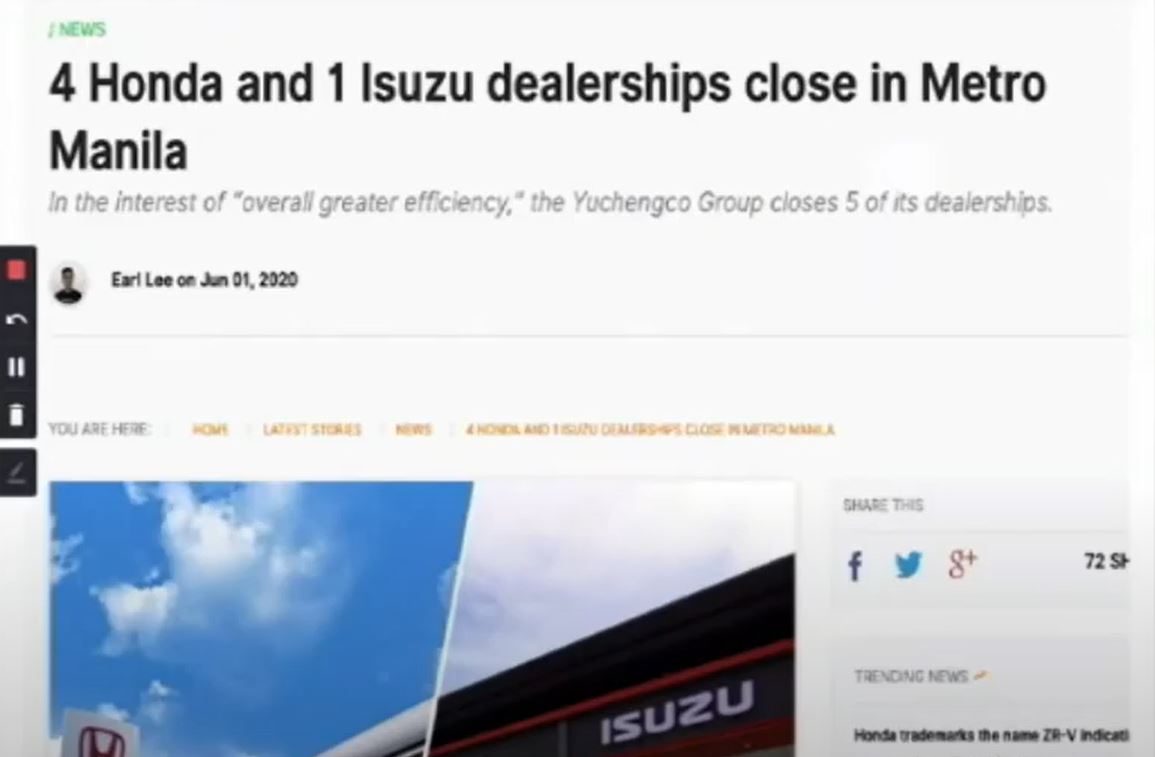 And even if you look at it globally, you're seeing Zara closing up 1,200 fashion stores around the world, Uniqlo closing up all US stores.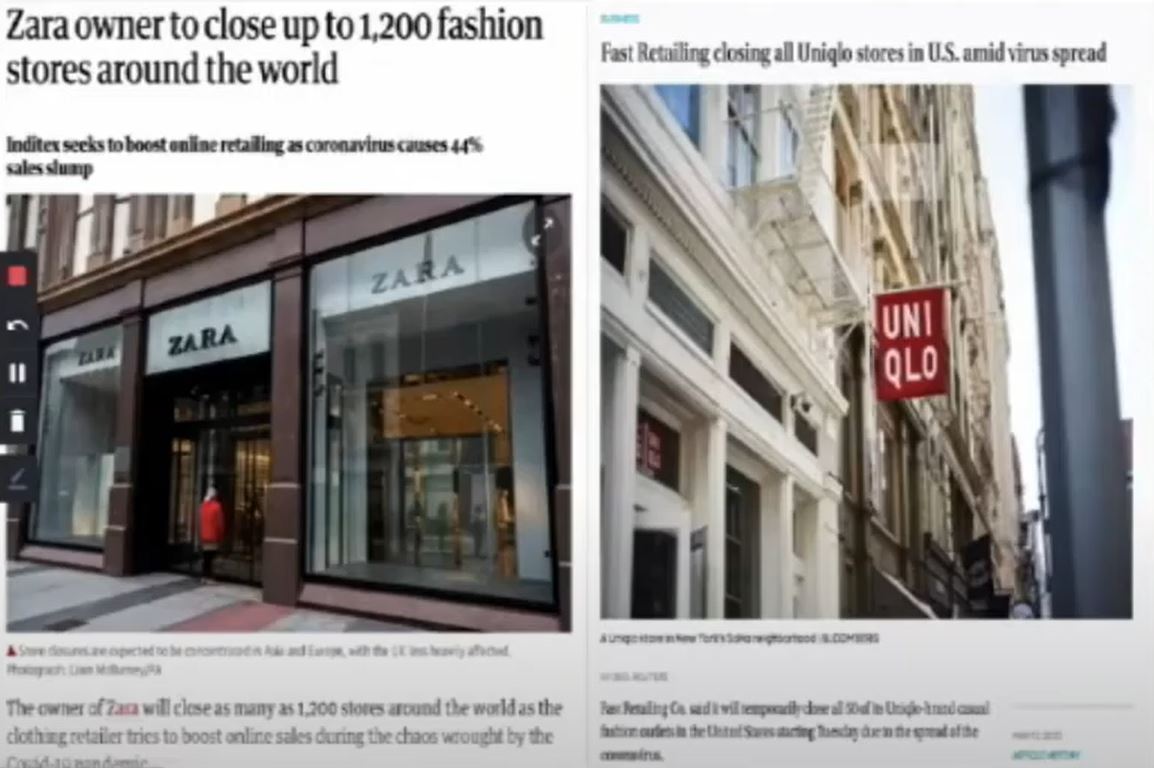 That is telling you already, sometimes, for things like this, it's very important to act fast, decided to act really fast, rather than continue with the bleeding.
I believe some of you, and some of us, I would say, even myself included when we had some of the restaurants in operation, we were hoping that, okay it's March, April…May, okay na yan, we'll be okay by June, by July. And yet nothing has happened. We're still in the same situation where we were in during March-April.
So if you think about it, it's just we have adapted better now. Before, we were all scared. Like, we don't know what to do. I think now we're starting to start to live with the virus already.
And I think what is very interesting, because if you look at it…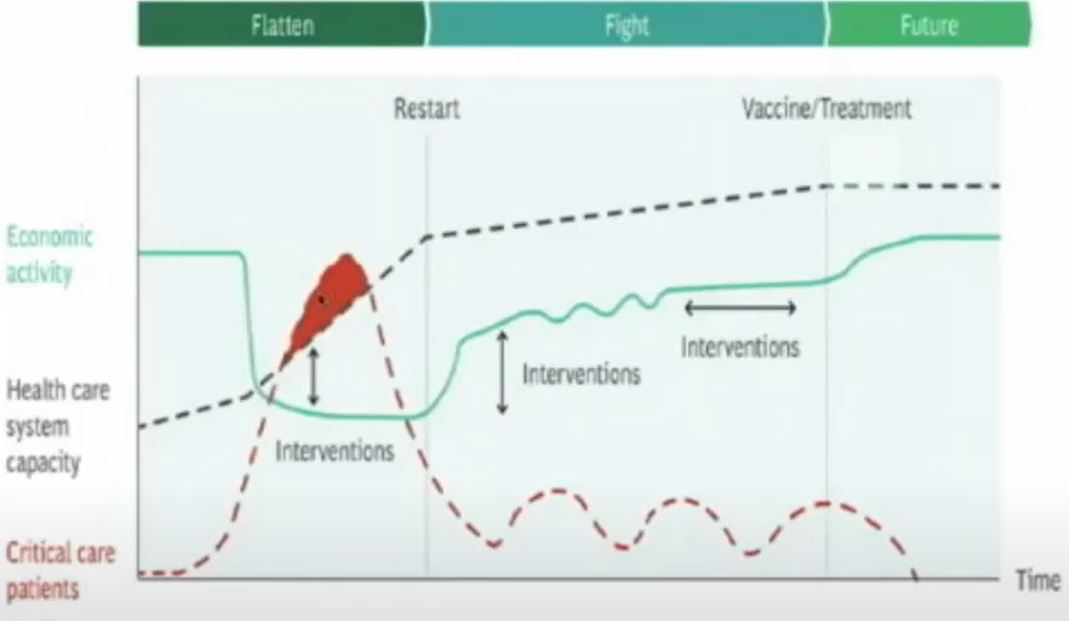 This was by BCG when they were analyzing before when the COVID struck. In the healthcare system, there's actually a surplus of critical care patients, and that's why a lot of the hospitals say, "No more", "Not available", "No more beds".  But then of course the healthcare capacity went up, and the COVID cases went up and down, and we actually had a camel hump. We had the two-humps. It went down, and we went up again, and now we're also facing some…
I just passed by BGC Saint Luke's yesterday. "No, no, not available". Again, no room for COVID patients. It's the same in Makati Med. So we have a double hump. But I think we're also nearing the end – what is called the restart phase.
We've seen the economy dropping during March 16, and that's going to be flat  – a flat economy. Hopefully, we're in this stage where, finished or not finished, ready or not, we will have to restart. And this is where we are, if you think about when will we be back to business?
This is the normal trend index at 100 percent [refers to the diagram]. We will be far from that – the fight phase.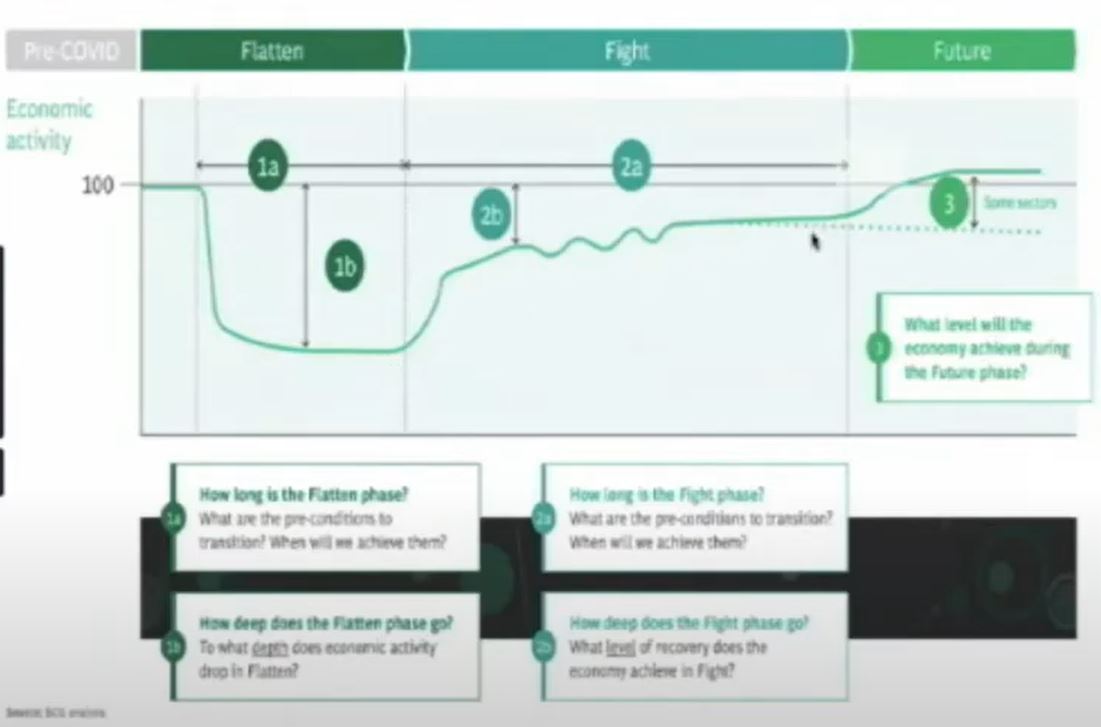 As we are entering right now, it's going to be very critical. Most businesses will now be scrambling towards getting what is the limited money is out there, whether you're an ad agency or marketing person, or you're in retail. There is lesser money going around; they say, assuming 50 percent. We will now have to fight for that 50 percent.
It's not about just sales and marketing per se, but that has become so important, right? How you do marketing, how you get people in your store – but you also have to learn how to manage your operations. So you will not, what I call, bleed to death, like some companies – to whom it is actually happening.
And that's why, in many cases, we have to master what's called the Business Pivot.
If you're a fan of basketball, you know that when you make a move, you cannot… if you move your right, you cannot move your left anymore. And when you make a pivot, like in basketball – if you move the left, then it's traveling.
When you make a pivot, from looking at the left, you can look to the right. But it's all about shifting – making a business shift without moving away from your board.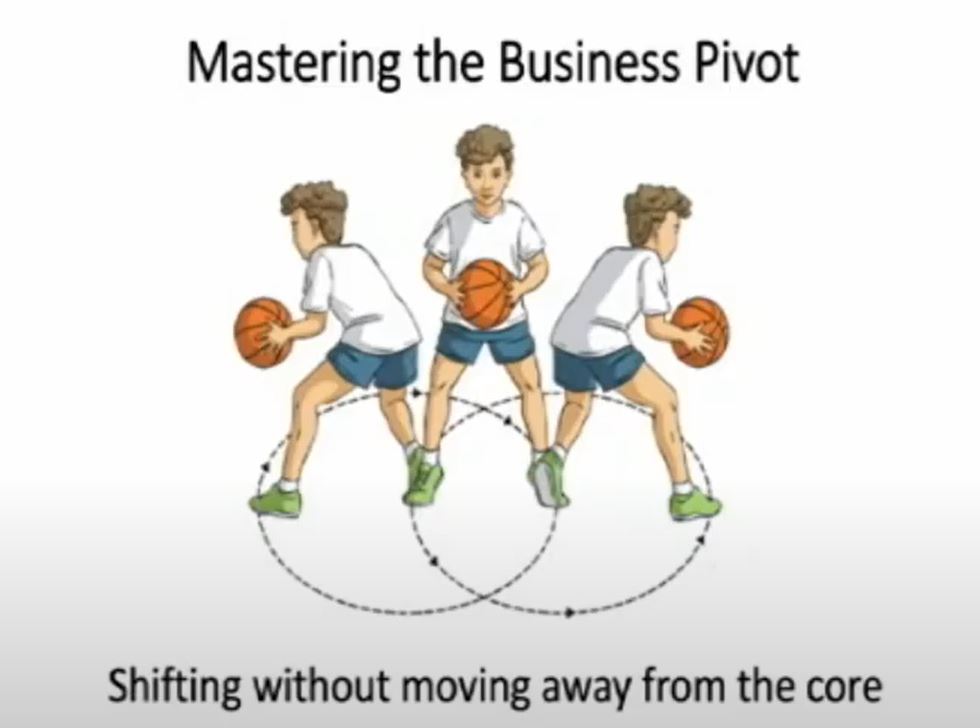 For the past three months, so many people are asking me what business they want to go to. And I would always say that the last thing I want to tell you is going to the business of face masks and face shields and alcohol. That's the obvious one, but that's not business – that's opportunistic business. After less than a year, that will go down, and that's not sustainable.
You have to always understand: like any businesses, always, regardless of the up and down of the economy, your core will always be your passion, what you're very knowledgeable in,  what makes you, you know, what keeps you awake at night and what pushes you out of the bed every morning.
That's your core. That's your passion. So always stay true to that. But you have to make a Business Pivot – meaning when you make it a business when you commercialize it, how do you make that pivot? There is no business that is alive today who hasn't done that, given COVID. That is also the seriousness of how the COVID pandemic is. We are all forced to make that business pivot.
Since you're marketing-wise, that's very important, operationally. And if you've seen already circulating [the news of] Jollibee letting go of people – that's the letter that has been circulated. Actually, some as open as that. I'm sure that regardless of the big names, how big the company is, they're also letting go of people.
So what is certain is what you call a Black Swan. What is a Black Swan event? Extremely rare events with a large impact and potentially severe consequences.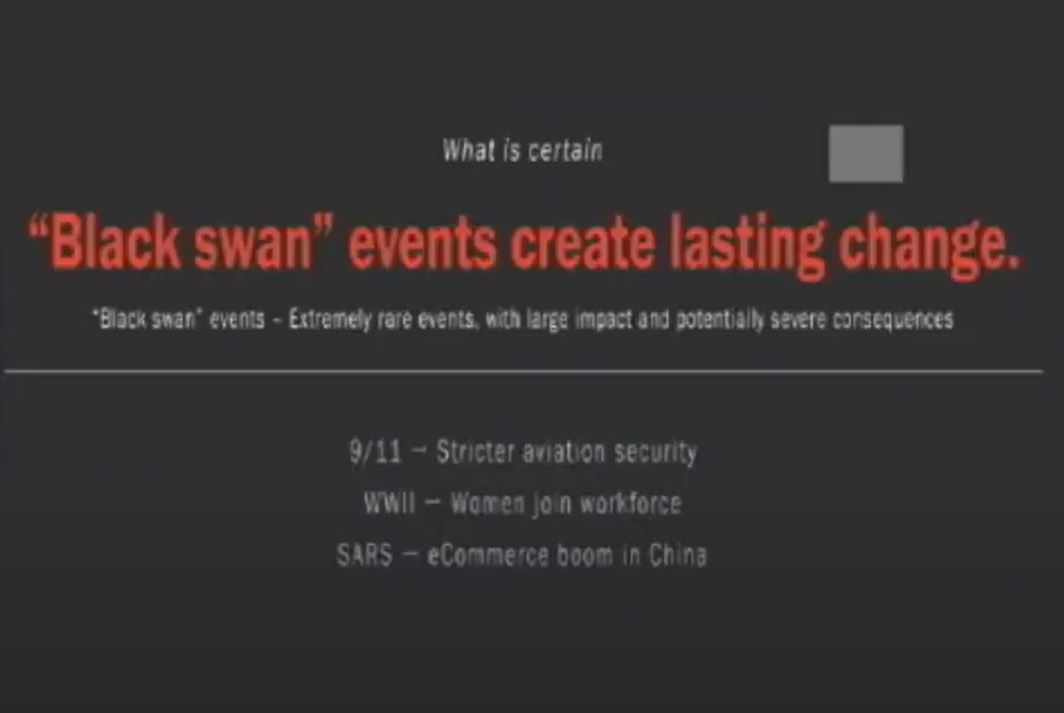 Black Swan events cause lasting change. 9/11 actually allowed, well, forced everyone to have stricter aviation security; all the airports in the world now have to have thorough checks before we get in.
World War II: we see women joining the workforce because of the depleted workforce.
SARS actually prompted the e-commerce boom in China.
So COVID actually prompted the world, and especially in our world, here in the Philippines… It will also change. People say [things] won't change; we'll be back to normal. Actually, it won't [happen].
We're seeing already how at this moment… My favorite examples: so I got an email a month ago from Marriott because I was subscribed to their database.
and they're saying: if you cannot have a Marriott experience in a hotel, then why don't you experience Marriott in your home.
And they're selling the Marriott bed, they're selling pillows, linen, beddings. Back then, who would've thought they would do that, right.
So that's an example I like to share. That's a pivot. You don't force people to come to you, but you think of alternative business models; how you can push and generate alternative revenue. What I call inorganic. Inorganic. Totally different.
And we've seen again, well, the Chickenjoys being sold in supermarkets. You know Potato Corner will never give you their fries, it has to be cooked when you order, it has to be cooked – and now they're selling it to, well… even frozen ones.
Yushoken, Mendokoro, all the ramen houses. Before, even if you don't finish your ramen, you cannot take it out. Now they're "forcing" all of you to take home ramen kits to set up yourself. 
Even learning, there's a Global Art Center for Pub. They're actually now training and doing tutoring online. I'm sure some of you who have kids who are in private schools, they're all forced to actually undergo online learning already.
Even my favorite brand, Uniqlo, they've been promoting AIRism. Again, this is a good pivot. This is their core offering, core product – AIRism washable face mask.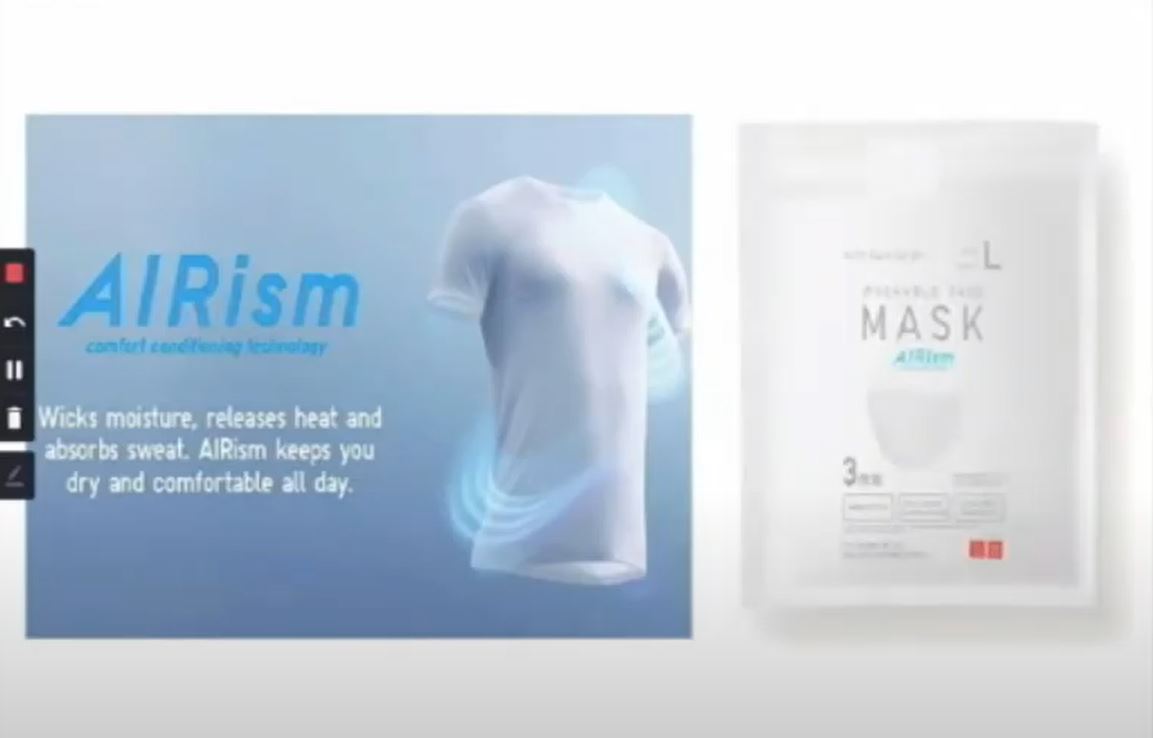 This was one of the most sold out items, even when it was introduced in Japan, and also when it was introduced here. They remained true to the core, but at the same time, they adjusted to the times.
For example, in Family Mart, people cannot come to Family Mart. We went out to them.  We actually have Fam on Wheels.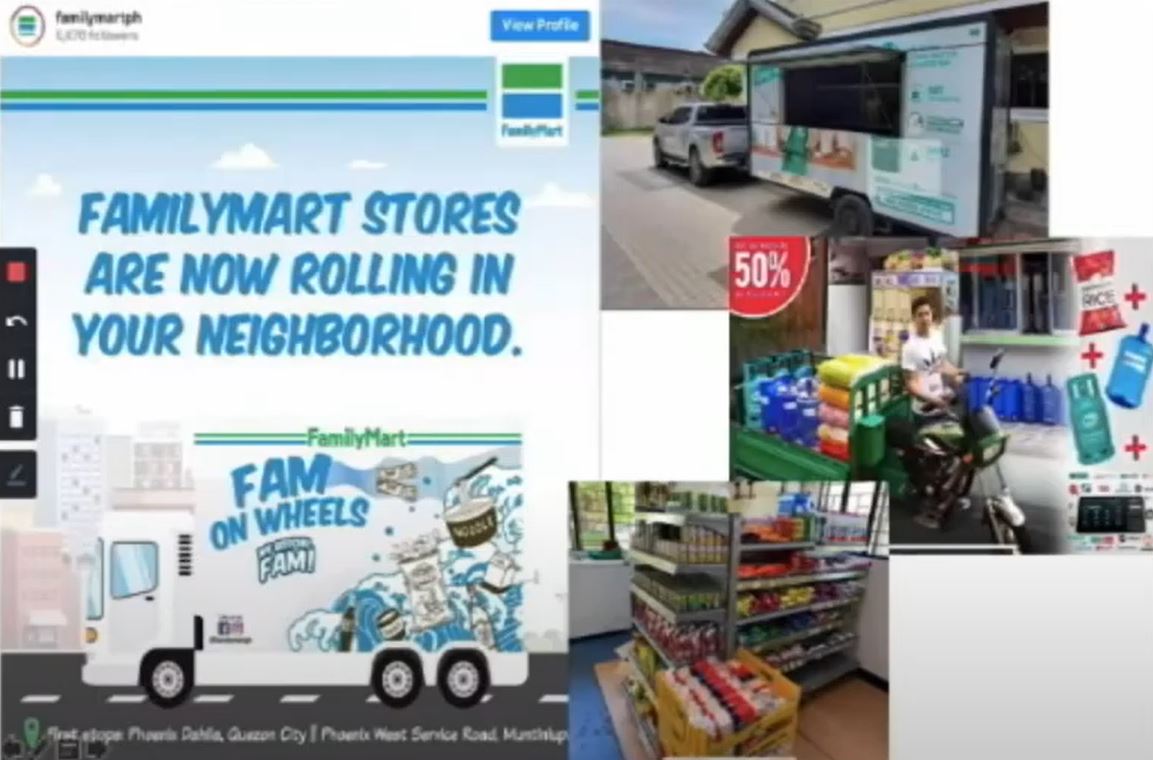 At the same time, for example, in Phoenix, while the oil and gas [business is not operating], so people were not gassing up…LPG actually went up, because people are at home. They're cooking, and they're doing so many side businesses, so we delivered to them.
There were some of the spouses of, well, some of our employees. Their spouses have been displaced at work. We actually gave them – okay, we have a lot of products in Family Mart. [We told them to] set up a mini grocery inside your house.
So we're thinking of totally different businesses.  Actually, there's a lot, you see a lot of convergence, for example, in Family Mart. You will see Conti's cakes being sold there, and even our frozen food being sold there. We're rethinking everything [about] how we do our business. Before they were very siloed.
So I think the challenge for all of us is, how do we make a business pivot from this? Because if you do not –  if you do not make that pivot – nothing will happen.
Just very quickly, a quote from Jack Ma: "Opportunity lies in the place where the complaints are." And as we've seen so many people complaining, so many people have a hard time – that is also where the opportunity lies for all of us if you want to create alternative forms of business, and how you can sustain your enterprise.
So now we're seeing some…it's the Ber months, right? Merry Christmas to everyone, right? So, the dust is settling, right? Let me end with my favorite hashtag: #COVIDISFOREVER.
Let's have a mindset. Let's not wait for COVID to go away, as business owners responsible for our enterprise, for our employees, for our customers, with a mindset of #COVIDISFOREVER. Let's try to readjust our business so that we can continuously serve our customers; so that we can continuously create an organization for employees also; so hopefully, we have minimum damage.
Actually, 2020 is a Great Pause – but after "Pause", it's "Play", right? 2021 is going to be a play session. How will we prepare a company when everything is back, hopefully, to "back to normal"? What will happen? How did we reinvent our organization, moving forward?
So that's a little something I prepared, just for everyone, so that we can discuss further, maybe details or anything else.
Bernard:  Yeah. Thank you, Donald.
Actually, a lot of the questions that we have, revolve around some of the examples that you made, like – I'll jump in the first portion of the conversation – never letting a crisis go to waste. I also like that quote from Rahm Emanuel.
Which brands, do you think, have been remarkable at leveraging this opportunity? Have any of them been remarkable at turning this into an opportunity?
Donald: I think no one will no one will say that they've been remarkable, only because this is so new.  I've worked with a lot of multinational companies even today. I've been helping some, you know, consulting for them, and especially (with) my past life in an agency, so there are some clients who kept in touch.
You will see you will see snippets of successes in advertising. There's a sardine brand that was able to capitalise on that in the messaging. So many CSR efforts. I think whoever would be able to capitalise on it, maybe, let's see, once the year ends. But even up to now everyone is struggling.
Once August came in, and now we're in September, everyone realized, COVID is forever. Everyone would have that mindset that that is the new reality.  We will have to live with COVID. And therefore, because things will not go back to normal, we're gonna have to start letting go of people.
We have to start rightsizing the business. We have to start. And it's not remarkable because we hope that someone, the story we were hoping for, is that there's a business who would have overcome it – you know, who overcame this, became so successful…
Again, no one was prepared for it. So maybe there are some, even the tech companies who would tell you, our friends from Globe and Smart, maybe would say, you know, online transactions have increased 300 percent. But in the end, you're seeing also that there are so many challenges because you have to support it from a customer support side, you know, on so many levels.
In fact, If you think about the real winners… It opened up a new digital economy, and at the same time, so many people just become entrepreneurs – overnight entrepreneurs – from the social base to everything.
Bernard: Yeah, I'm seeing a lot [of them], even on Facebook. Like there are more merchants there now than ever. That's an example.
What about the fintech industry. Because I'm seeing a lot of noise coming from Grab, Cashalo, G-Cash, Paymaya – like, they're really moving on driving awareness for people – empowering e-commerce…
Are they moving fast enough, in your opinion, cause I think it accelerated, like, really fast – and it's a question of, can the private companies that enable commerce, keep up with the pace? Gcash submitted a report in June saying that their subscriptions went up by 150 percent – like the number of people who are subscribed to them – not 50 percent, but by 150 percent.
Donald: I think the fintech would be, it's not even the fintech. I think the industry, the digital industry, actually, are the clear winners. But I would like to put a caution to that, because when you say winners, it just means that before they have to do aggressive marketing, but now they don't have to, because the customers are coming in.
Even once the customers have started to come in, you also have to scale up, which also brings up your costs. So in a way, it's been successful in digitizing the entire country. In a way, you also have to start choosing which is your core expertise and start earning money from it. I do not think a lot of even those who are really digital companies are profitable, so that's also a big challenge.
Second would be: in my conversations over the past week, I've been conversing with some of my friends in the food category, and I myself have some restaurants. My manager would say where most of our sales are now are from Grab. So what used to be, for example, what used to be so, just a word of caution – I have a restaurant, my sales are around, let's say, every…my daily sales would be 50,000, let's say. Because of this pandemic, not too bad: I'm at 30,000. You have a big drop: 50,000 to 30,000. That's a daily, right, so in a month that's big money. But my operation costs went down, because of no dine-in.
So number one, if you look at it, that's more profitable. That made me more profitable. However, if you think about it, if you market on your own that's okay, meaning you have your Facebook page, you send out messages, people order directly. However, with Grab: Grab actually went in and owned 50-60% of my total sales. But we also know they get a big percent out of it. So in a way, their entire commission took over what are the costs of running a restaurant. If you look at it, you have more customers, but they're transactional. They're not like loyal customers, who will eat there every time. And then your margin's actually shrunk.
We have to re-manage our business in a totally new way. Even for the fast-food [industry], I would think; even for the Jollibees, McDonald's, Burger King. I think Burger King, with 50-60% Grab, nakapila yung Grab e, there's a counter for them now also – but I'm not sure they're earning, even for both sides, from a profit perspective.
Bernard: Are there businesses that you think could be doing better, because clearly there are some industries that are taking a bigger hit than others.
Take for example, like ride-sharing, clearly, a bit hit. There's not a lot of Grabs out there anymore, and so they're making it up on the food delivery side… But also, inevitably, some apparel brands, some luxury brands – because people are not going to the office; we're not having to shop for work clothes as much.
But are there industries where you think, if they just made one small pivot, they could be doing so much better?
Donald: If I talk to some of the business people, food. The food category is generally up – not the restaurants, not the eat out, right, but the food category.
I think agriculture was a bit up also because people were actually buying. And we're now more inclined to – after this, we're actually cooking on our own.
So there: the food category.
Anything what they call the essentials, the health essentials.
I was talking to Toby's also a few months ago. Right after the quarantine, from almost zero sales, to now everyone wanting to become healthy. People are buying treadmills and bicycles and everything. That was boosting up.
So I think very specific categories along the day-to-day survival of the new norm.
Bernard: Are there verticals that are finding it easier to make that pivot than others? Do you think it's more natural for some brands to be, or for some verticals to be, able to adapt to COVIDForever versus other verticals?
Donald: I think for those who are, right now – you have an advantage if you're smaller. In fact, if you think about it, the bigger you are, the more OPEX you have. It's extremely hard to make a pivot.
The smaller you are, the flatter your organization is… You know, I was talking to my guys in Conti's and Wendy's. They were saying, "Oh, it's so good that we're not as big as"  the following; the others. 
We were technically… even the org structure was very lean and mean.  We don't have to let  –  I don't think they let go of people. I'm not sure, but we never had any discussions in their management meetings.
It's just, okay – how we will reinvent our offering? How we move the people from the restaurant to now delivery people? It was quite easy. Even for our Phoenix people, they're the gas boys. Nobody's gassing up, so we made an adjustment within communities.
You want us to go into your household and check your cars? So our lubricants were up.
We align also with our LPG business. LPG is up.
So there are some businesses who are, again, essentials, [and] are coming back. We even actually offered: "We'll just wash your car for whatever. " So in a way, we have to change, from selling oil and gas to now total auto. You know, car management.
Bernard: Right.
Donald: If you know the people, it doesn't mean you'll go away from your core. It's just your core business. It's your expertise. But we shifted and totally created a potentially new category that [we might develop] later on because we're so good now in washing cars…
It's a system. We have to go also from the marketing system to the operational system. Now we can actually go and do that within the different communities in the neighborhood.
Bernard: So are size and essentials the only common denominator to the businesses that you think are getting it right?
Donald: I think, I think, for now.
Bernard: What if they're larger brands? What if they're in real estate, but if they're in land development? They're rarely small.
Donald: That's going to be a bit of a challenge. Even for us in Clark Global City. Even if we're doing some marketing, no one will be opening stores in Clark. You know, we were planning. This year was the opening of CGC, which is the next BGC. But of course, right now everyone had to lie low. People are not traveling, so that's going to be a pain for you for some time. Real estate will take time.
Bernard: About that – you know, getting your brand story out there – I think everybody already knows marketing is about storytelling. Talking about your brand's value proposition. Why they should believe in your brand. And then, clearly, you've got Lazada and Shopee. They're super ubiquitous now. They're super ubiquitous everywhere and they always have been.
But what is the current best way? Like, if there were best practices, or if there were an ideal way to get your story out to your potential customers today, what would be the right way to do that now? 
Donald: Well, I think you have no choice. Digital becomes the most compelling platform because all of us suddenly have just become so glued to our digital devices. With ABS-CBN not airing, that's also where we've seen so many people just tune out, right?
We thought that they [advertisers] would shift. I was talking to some of my media planning friends in the agency. If there's a hundred percent budget, they thought, without ABS, everyone would go to the other channel. And yet it didn't [happen]. Also, there were some, but not all… 
I think people placed…the budgets were diffused more into content creation, community management, because everyone is now there – well, digital. Again, Search is very important, because intent is there. Again, the play on Facebook, and of course Tiktok. Everyone started experimenting on Tiktok. 
Bernard: Even I've been hearing a lot about it in the Philippines!
Donald: Yeah, so again: those are the shifts from marketing. New platforms.
Bernard: What about brands that multi-channel? Because there are a lot of brands that are both digital, and then they media buy, but they also do Out of Home. I mean, is it time to park your Out of Home budget?
Donald: Well, I think Out-of-Home actually took a big hit, also because they're saying, you know, [that] the advantage of Out of Home was traffic, which all of us hated.
So some of my Out-Of-Home friends are saying, No one's going out – what will you put out there? I personally own, I have some few personal billboards. I was lucky my clients are not canceling. But they were asking, "Can we reduce the rates a bit, because it's out there, but no one is seeing it"?
I'm good because I just have very few personal Out-of-Home areas, where I rent it out. I can imagine those who have 500 slots, LEDs running. I mean, how? Yout can't even…How will you pivot from there? I mean LEDs, and LDDs are out there, and it's running. 
Bernard: I'll jump into a speculation part of the conversation. I'm not going to ask you to make predictions, but I would say, if you could bet your money on specific industries that will wind up winners in the current situation, where would you bet your money?
Donald: For me, I'm still very much interested in real estate. I think they will bottom out more. Then maybe [it will be] a good time to buy after.
I think there's immense pressure for them because they're still there, they're hanging on. But you will realize that as this becomes normal, people just realize, work from home is okay, I don't need office space… 
Bernard: Isn't office part of real estate? Because this is actually one portion of the industry that we're looking at. Personally, to me, I find it surprising that it did take a bit of a shock, like latter part of March, a bit of April… But it looks like residential purchase-wise, the interest to buy property is still high. 
Donald: Yeah, it is, it is. So I'm pertaining, if you look about the residential market, there will be some winners and losers. I think some of the losers who will need to liquidate will be selling it at a bargain price – so there's really opportunity for bargain hunting. You're talking about real estate, so maybe it can be commercial spaces, it can be office, especially if POGOs bite, if they decide to leave us.
And at the same time, of course, residential might be a good opportunity. Not because of the industry, but because of people who need to liquidate immediately because of certain concerns.
Bernard: The Bangko Sentral gave an interesting [report] in the end of last year – and I think that accelerated so much faster. I mean, ultimately, I think things will regress to mean at some point – whether it's in mid-2021, whether it's 2022. 
But what do you think it will do to the digital adoption that the Filipino population has made?
Clearly, we went from, like, double-digit million transactions to triple-digit million transactions. Do you think that progress will slow down? Or do you think it will just continue to accelerate from there? 
Donald: Ah, no. For me, that's… We've created what I call a new baseline. I don't think it will slow down. I think that the best test would be, for example, my father. Finally, he's on Netflix. He's a 71-year old. Finally, he's enjoying Netflix with my mom, who would have never thought they would go on Netflix. Who never thought that they would pay online to order something – to order siomai in Binondo. 
Bernard: My mom just recently discovered Netflix. She's never used her credit card. And then, in this one instance now, her TV. She's got a tablet on it. They're adopting.
Donald: Yup. So even the elder segment is a big chunk. Once they start learning, they also have good money. That's a big chunk of money there. The 55 and above. The 60 and above. Who are not, you know… They won't even, they can't even imagine putting their credit card number. Now, they will start. And then, of course, you will see the younger ones…
However, the overall effect has …shrunk; you need time to build it up. But in terms of digitizing, you will see more transactions becoming digital.
It's so normal.  "Oh, we'll deliver – just send me the money." So from bank to bank, or in whatever way. If you use G-cash, fine. But that's become a new normal. Before, you don't see that. Before, there has to be, Go to the bank and deposit, and send me the deposit statement.
Bernard: There are more people now that are more open to online transactions, which I think is a big deal. For the longest time, you know, 15 percent of merchants accepted credit cards. Only one in three Filipinos paid online. And that's considering we were one of the first countries to begin adopting online payments in 2001. So it's about time, I think, that the Philippines got caught up.
If there were…If you had three top pieces of advice for brands or companies to be doing now, what would they be?
Donald: I think the first is truly to accept the reality [of the present situation]. You know the four stages of grief: denial; then you have anger, bargaining – and then you accept. Once you accept, then you move on.
You have to move on. Even I have so many friends who still cannot accept the reality today [that] their business is literally on pause. "But he's burning money." "No, I cannot let go of my people." Sometimes, you have to make that tough decision; it's business. You enjoyed the good part, but sometimes, if the economy did do this to you, you have to adjust. So acceptance is one – what is the new norm, and what would be the business that you will align to the New Normal. I think that's first.
Second, I think for every business, I would reiterate many, many times: Cash is King. Which means, for you to survive, you have to make sure that you have enough cash to survive the next three to six months. And at the same time, every transaction counts. Gone are the days where I would think, you need to build a brand, you need to build the emotional connection… Now, for the short term, it's all about the transaction; going after the transaction.
Bernard: Because loyalty is currently harder to earn now, right?
Donald: Oh yeah, yeah. Because people are trying, and there are too many platforms. There are too many platforms and too many Instagram accounts, and Facebook accounts, and everything else, which are competing. You want a certain type of loyalty. But I didn't think right now. Rather than going after our returning customer, which I think is important, you have to keep on aggressively getting new ones in [and] continue to be innovative.
I think the third is, really: Never let the crisis go to waste. It's also a good time for all of you, the management, the board of directors, the owners of the business, weekly, to get together. To most of you, for the first time this year, you got together more often, when you count it and you combine to the entire years of operation.
I have a company; we're 10 years in operation, and we only meet once a year. Because of this pandemic, we've met like twenty times already. We meet more often because of the problems of our business, rather than once a year. I think it's a good time [to do so].
Do not underestimate to leverage the talent, the experience, the grief. You know the challenges everyone went through. But you need to reinvent the business, and you need the entire board, the entire management [to support this effort].
This is not going to be easy for all of us. And I say I'm literally saying it's for all of us.  Some [businesses] may be a bit up, but the challenges, we all face – because we are all interconnected. Our business, the economy – we say we're a small business – no, we will be affected. People are not in the malls. Someone is not spending. People are working from home. So the entire economy just tilted to the other side.
It's important for us to do our share, also in helping in whatever [way] we can, but at the same time our business is the one that maps – we need to make it navigable for the long term; planning intuitively, and re-incubating again.
Bernard: Yeah – it's what puts food on the table of employees and their families.
I've got a personal question. I often get asked, and I actually don't know how to answer it the right way, if there's a right way to answer it.
There are clients that ask us, what can we do digitally to get back to 100 percent?
Personally, for me, I don't know how to answer that responsibly.
So if I ask you, what would be a responsible way for answering that, when they're saying, "Are there tactics? Are there strategies that I can do to get as close to pre-pandemic cash flows, pre-pandemic revenues, as I can?" What's a good answer to that? But a realistic answer to that?
Donald: Like what I said earlier, we have to accept first where we are. We have to accept first that "at the pre-pandemic level" will take time. If you think about it realistically, let's put it at 12 months because that will not happen this month; this will not happen in the Ber months.
We're looking at the Ber months to might give us, at best, up to 80 percent – at best – to what it should be at normal levels.
But then, you will have to contend with the January slump again. That's a normal slump – January, February. And there'll be the effects of unemployment, [which] is just too high. So without money coming in circulating within the country, you will see – already not much production, not much spending, and therefore not much advertising.
I think people will advertise in [the] Ber [months]. It's still important for me to do a bit of sales remarketing. You still need to go for every lead. I think performanced-based [marketing] would be so important now. But at the same time, you have to be wary also. It's not going to be you reach[ing] your maximum level of spending ROI for every potential customer faster, only because once you reach a certain level, the returns will be the same already.
Bernard: Right. Are there marketing techniques that are better to target in the current situation versus others? Should people be focusing on aspiring "B", "A", or is it really just across the board? Like you expectations have to be said – that everybody's pretty much affected the same way? 
Donald: Well, actually the "A" remain "A". I don't know if I can say this, but actually one of our companies is Maserati. Udenna has the franchise today for Maserati and Ferrari. Last, I think, June, we sold three Maseratis, when were just selling once at most, at most one a month.
What happened, right? We were thinking, the A's remain A's; I think they are the ones who have the money. They took advantage of this opportunity. But I don't know where, how they did it, because I can't disclose who bought it. And I don't know, right – so, but you know, the A's remain A's.
The D-E's are pushed down, and you have the C's – C1, C2 – they're the ones struggling, going up and down in that circle. So I think that when you have to target, you still have to stay true to who your product is targeting.
I don't see that if you're this specific product, "Let's go after the 'A'", because you will be too far from your core already. I think it's also a function of how you do marketing, how you reach the customer faster.
So you will see so many people doing, from a distribution perspective, they're reaching out; they're trying their best to go… If they can sell door to door, they will do it. I'm always very fascinated. In the malls,  when they're in the lobby, in the big area, where they already have Kenny Rogers… All the other restaurants, they're selling 'Order your take out here'. They have different booths, and they're selling. So they're trying to be nearer to the customer in their own way.
Bernard: Yeah – and I think some of them are actually already doing a pretty good job. I don't think the volumes will ever be the same as it was pre-lockdown. I think businesses are adapting. It's a good sign, that – there are good signs that the economy is still running. And you're right;I think ultimately we will come to accept that this is what it is, and denying it is not going to help anybody. 
I'm going to ask for a couple of final thoughts after we run through some of the questions.
We've got some interesting questions and so I'll start going through them. So I'll open up the chat box for any of you that have not left any of your questions; feel free to do so now. But I've got a few in already.
So this one is a common question. It's been asked a couple of times over the session, and I think I'll bunch them together.
The first question is, How much budget should we be allocating to digital; and then the follow-up question to that is, How do I convince my decision-makers to see it the same way?
So let's start with the budget they should be allocating to digital. How do they know that?
Donald: I don't know if I'll be biased towards digital, but I think right now it's more obvious that you should need to go digital, because that's the bottom of the funnel, which means closest to conversion.
As a traditional marketing person, you know, number one: I always tell people, I'm Marketing, I'm not Digital. It just so happens I understand Digital more so than a normal marketer. But if you think about it, we all know that as a marketing person, brand building is important. It's creating a relationship with the customer. And that's why you need to do what you call IMC – integrated marketing communication. But as your budgets are lower, you need to do the conversion faster – and that's why I think I'm predisposed to digital.
I just opened up a small take-out. It's called Chami, in Mandaluyong, and it's all Facebook. Then we might do Search by next month, but it's going to be that.
I wouldn't even do OH, or, without prejudice to any of these ATL platforms – but for me, as an entrepreneur, it's going to be bang for a buck. So for my buck, which means it's going to be the most hard-working to turn to all the way, from the level of awareness, all the way to the purchase. I cannot do that with TV, radio, print, or whatever, and then do digital – I don't have that luxury today. 
So I think all the more you can convince…it's easier to convince your boss now, because with so much limited budget, the only way to do it is to do digital; it's a process to conversion.
Bernard: Should there be a science they go through to figure out what the figure should be? If they're expecting, let's say, one hundred thousand in revenue per day…let's say one million in revenue per month.  How much of that should be allocated to digital?
Donald: I always say it varies per industry, but as you well know, it's 1-5 percent, depending on your sales. In India, as a business owner, I will still manage my profitability, my profit margin; so there's a line item on marketing where I can play 1-3 percent, usually. But if you're at one million, then obviously you have 1 percent. That's P10,000. Maybe you can bump it up to P15,000 a month.
Bernard: Your 1 percent is actually a big deal if your cash flows, even if your margins, I think, are conservative. Ten of a million is still a lot of money, yes.
Another question I got is: If it's my first time, or we're new to digital, how do I know if I've got a good vendor, or if the vendor is as good as they claim? 
Donald: Well, there's no way around that. I think you just have to ask around from credible people. Sometimes you have to learn on the job, and learn along the way. I always tell people, do not trust, of course, vendor number one; you always have to ask around. Sometimes that's why… I was with an agency before. I really hate my clients if they all have all of us agencies compete because there's no AOR. So we always would have been competing. But then there's sometimes a business logic to it, right? Because every time, we have to showcase our best – and we will try to outdo the others.
Bernard: Can they ask, "Do you have a referral I can talk to? Or do you guys have a business that I can talk to that can tell me what their experience with you is like?"
Donald: Yeah, of course. I mean, if you go for the blue chip agencies, they're okay. They know what works. But if you want to work for, if you think you're smaller, then you really do your homework, and if you want to work with boutique, smaller agencies, you maybe just have to talk to two or three or four, and just have to make a bet with a level of comfort with a certain group. I won't be endorsing any; all of them are my friends.
In one way, this problem is like [what was happening in] 2010, 2011, 2012. There were so many boutique agencies. Right now, most agencies would have to – actually, they can't survive if they're not good right now. 
Bernard: That's true. No, I agree. I think all of the weaker actors are already gone. Those are the ones now that even we interact with, and we partner with them a lot. The demand in the market is so high that I would say we are outnumbered right now. Even if we work with Laurent's company, or Jay's, or the guys at Shane's company – even if we all together… There's not enough of us to service the demand in digital all around. So whenever we've been cutthroat competitive…actually, I think it's a very cooperative industry. Yeah, all the people that I know, know each other. Yes, yeah, true. 
There's another question that says, If we don't really know how to measure the impact of digital, how do we know it's working? Is it always improvement in revenue? 
Donald: I think that it shouldn't be the only measure. But again, these are different times. You should be monitoring your increasing revenue. In all my talks pre-COVID, I would always say that for example, a big company like Coca-Cola, when we do digital for them, we do measure what is called a brand lift. So people prefer it more than whatever, right – there are many marketing measures. But if it's today, I would suggest you have to go after conversion – meaning, get people. If it's not a buy, meaning if they don't buy, at least get them into your Facebook, your website, your store. That has to be important: conversion. 
Bernard: I've got a conversion follow-up question from the people that are with us in the session. And that question is: Aside from doing standard socials, what would be the best platform that allows you to target High Net Worth Individuals? 
Donald: For me, if it's High Net Worth – like for example, when I was…when we were doing planning for – again I don't know, but if you look at it, there's nothing digital there. Digital is incidental; it's a support function. High Net Worth is really [about] relationships; unless you're targeting, for example, Top 1000 corporate CEOs, right. But at the same time, that's really relationship. If you're in a private equity business – private banking, insurance, financial services – and you want to target High Net Worth, it's really connections, more than anything.
Bernard: I agree, I agree. I think for the market it really is more about who you know than how you pitch, because their trust levels are high within their circles.
There's a follow-up to that: Is there a right way to advertise on social media and avoid looking scammy? Like there are signals for how they do their messaging, their imagery, their advertising, so that they can't be looking scammy or low quality.
Donald: It depends on if you're a known brand or not. There are some who are known brands, like fast food. If you're a Shakey's or a Jollibee or  a McDo, then it's really to announce a promotion. And we've seen so many of those, so that's okay.
If you're a new brand, then you…and you want to advertise, then you have to build your brand story.  Then it could be maybe showing your face, or "This is the recipe of my grandmother; now, I want to put it to life, given this pandemic…"
There has to be a setup of a story first – because then, you know, a recipe….food is food. So I think you don't have to fast forward your entire marketing process. It also means that when you create what you want to create – that you want to move to becoming a brand immediately, because a brand is something people trust.
You need to leverage on word of mouth. You need to leverage on key platforms. So open up your Facebook, so that when you market, then people can also see the testimonials within.
Bernard: Yeah. What about high ticket purchases, like, for real estate, which is another question. Considering that people are not too keen to let go of their cash so much, because they don't know about the level of certainty,  how do you attract new clients? How do you allay that fear?
If someone was looking to – let's say, somebody gave themselves a personal target of, "I'm going to buy my dream home in 2020," and then pandemic happens, how do you convince them that it's still a good time to purchase? In fact, it's still a good time to purchase; in fact, it might be the best time to purchase, considering that everybody's trying to sell stuff.
Donald: In that kind of a game, I always feel that it's important to be there. They're part of what they call a partner in achieving their dreams, whatever those dreams are, whatever that thing is.
If it's buying a home, it's what is more important that is for you, so make that relationship.
It means that you don't hard sell, because everyone is [suffering] hard times. So for example, if someone wants to buy the dream house, what would I do? I would keep on providing them all the opportunities out there, without hard selling. I think right now trust is the most important element today, more than ever. So if you do not develop that trust and you want to hard sell/force sell because you want to make a quick buck, then you lose that customer.
For me, it's all about generating, focusing on trust. It's okay to lose a bit now, and that's fine. You're amassing and building and planting seeds. The Great Pause, today, 2020, is planting the right seeds right now, rather than, trying to… as you plant rice, it will snowball. I think I can guarantee that.
Bernard: The reasons why we buy are pretty much still the same, right? It's still about resonating with the brand, trusting your salesman…I don't think the reasons for why we buy have changed; it's the method by which we make the acquisitions.
A question that came in from Facebook Live – and the question is:  Is digital marketing better for small businesses/startups, or do we just go with social media marketing?
So I guess that's two questions, but I guess the first question there is, Is digital marketing more appropriate to startups and small businesses?
Donald: It will always depend on the audience. So I would ask that if you're…a retailer, then of course, digital is the fastest and the easiest way. Create a social media account; create a social media page; you boost it within certain geographies, and that's it, right – and you move from there. But always remember, the product is as important as the message; the promotion is important as a message. Getting that into the store is very important. 
Bernard: Yeah. I agree. There's a few more, and I'm going to try to squeeze as many of them as I can while we've got time.
Somebody says, Is there a certain revenue size or cash flow volume you have to consider when you're ready to begin to do digital? Is there a certain amount of revenue you need to be generating before you consider when you're ready to begin to do digital? Is there a certain amount of revenue you need to be generating when you consider digital a feasible marketing strategy for you? 
Donald: No, no. I work with a lot of SMEs. Some are totally just starting up with zero revenues, and they know that they have to set up a social media page, they have to boost, they have to sell.  So I don't think the marketing can wait for you to reach the right size. Broadly, you have to market; that's part of the business.
Bernard: Yeah. There's two content questions that came in. One is, I compete with some really big brands. How can I carve a niche for myself in digital, when the bigger brands can always outspend me? 
Donald: So it's always the platform, choosing the right platform, and what is the messaging. If [earning] share of voice, if it's very hard, then you go to a different platform – unless you're first. For example, if it's Facebook and everyone's there, then that's what you start doing your Tiktok or whatever. 
Bernard: I'll jump into that again. When we say, the right platform – I think, to you and me, it's easy to figure that out. But for the people that don't do it day in and day out, how do they know if they've chosen the right platform?
Donald: Well, good. That's a good question. Number one, you have to identify first your target audience. Of course, if I'm targeting anyone 30 and above, Tiktok may not be the right platform. No bias. I mean, we're not there. But again, for the younger audiences…
If it's for a certain segment, then maybe Facebook would still be okay; Instagram will still be okay. Then it's very hard to market. That's why you have to go into the different  Viber communities, you know. I think you have to boost a bit.
What is important, I would always say, that people always forget, that the most important part of digital is Word of Mouth. People recommending you, people sharing your page, people giving people something to talk about. I think, like what you said, from a content perspective.
I'm looking at this question, here: How do you stand out? The most important part is, it's really creating a content plan that would make you stand out. If someone, if people are selling, if someone is selling spaghetti, how do you create a different kind of spaghetti so people would talk about it, right?  It will boil down to the product, also, unless, for example, you want to invest with influencers. That's a different play, if you want them to promote you. 
Bernard: There's another question here about picking out the right digital marketing channels, the right digital marketing ads.
How do you test if you're headed in the right direction in terms of your selection for your channels? How do you know it's hitting your target market, and how do you make gathering of data easier, given that your access to your agency, your analytics vendor, and whatnot are a bit limited currently?
 What are some good indicators to know that your messaging and your digital channels are the right selection for you? 
Donald: If you're coming from a businessman's perspective; if you're not working with an agency who has the tools to monitor [your campaigns], I would suggest you make it simple.
First, you have to identify one or two channels, then, again, the rule(?) group will always tell you that: be on top if you're a business, you have to be on top of your marketing platforms, your marketing channels, and you optimize.
If you think it's not working, you don't wait for it to work. If it's not working in two to three days, then you start to pivot already.
I remember I had a digital marketing seminar with SMEs. Whenever they come to me, I would – and some of them are a bit old – 50s and above – and you know, they had so many questions, too, that they were throwing at me. And I said, you know, you have so many questions. The first thing is to – you just ask your kid. You ask your children to answer it and maybe you have started a Facebook page for your brand. Have you heard? So totally zero.
So I said you know to do it, they'll teach you more, they'll in fact… It's good to make them part of your business and start working on it, both of you together. You bring the perspective of the order of the business. Your kid will bring in the perspective of understanding the platform very well.
Especially for those who do not have an agency, also who do not have the luxury of working with an agency, you really have to get the family members or whoever to come and support you. 
Bernard: I've been doing some experiments with a few SMBs lately, just to test out how good digital could be for smaller businesses. I mean, even the results on SMEs are surprising to me.
These are just two friends that partnered up and redistribute beauty products and whatnot. You would have never thought that it was two guys behind this brand, but they are going outside of their comfort zone. They're creating the marketing content, and they have no idea how to do it. But they try over and over again, and you see them adjusting their campaigns, I would say, twice a week. I think that's one of the advantages of digital, where you don't have to wait.
"Oh, let's wait 30 days. Oh, let's wait two months before we make the adjustment." You can actually make an adjustment in days, in a week.
So I think that given that you know we're [done] at 4:15, and we're going to hit the mark off the 4:15 time, I'm going to give you guys, I'm going to give you the last few minutes [for] parting words, advice for everybody listening. If they had, one, top two, top three takeaways, out of this conversation, what would you want them to leave this session with remembering.
Donald: Yeah. I think this is the time.  We're going through what you call, again, a black swan event. These are hard times; that's a given. And sometimes I know that when we look around, these are, you know… We never imagined that we would experience this in our lifetime. That when you go out, people are in face masks and face shields. That when you look at it, you have a friend post who got sick, who actually got  unemployed, or who lost a business, and then many others. But that's the reality we have to accept and face.
Our businesses have to continue – so again, focus on the essentials. So it's going to be, rather than always saying business for the long term, we have to prepare our business for the short term. The next six months are very crucial for all of us – especially for SMEs, especially medium businesses. This is like, go or no go, right. You will reach a stage where you have to make a major decision.
The sooner you accept the current situation, the sooner you make key decisions, maybe it's easier for your business to move forward. I'm sure you've seen so many companies already making quick decisions – whether they close down their stores first; they would not operate; they would not charge; [and doing] this so that they survive the short term – so that you will be there for the long term.
I think for everyone it's also very important for all of us to just be nice, to be kind, to be helpful – because again these are unprecedented times. To be kind and helpful to others would allow all of us to grow, because here you cannot grow just by yourself. The entire economy and everyone else will have to grow with us. So I think, you know, let's share whatever we have, and at the same time see how we can help one another.
But again, business right now: shorter conversion; use digital.  That's going to be very stable moving forward. 
Bernard: All right. I think with that,  that those are very good takeaways.
We actually recorded the session in case anybody wanted to go back to it and come back to the advice.
I think the worst thing that any business can do right now is stay on Business As Usual, because, clearly, the things that we were doing six months ago are not the things that will help us survive today.
And I think if people want to keep this conversation going, we've also invited other people. Jonas will be talking with us a couple of months from now. Next month, I think we've got Javy of LBC, and he'll also give practical advice in terms of digitally transforming their business – what he thinks are the current Essentials. I hope everybody else joins us.
Donald, thank you for the time this afternoon! It was a great conversation. I wish we had more time, but I appreciate the hour you spent.
But that's also for everybody that's currently in the session: I appreciate your time!
And with that, thank you very much. Good afternoon to everybody on Facebook.
Have a great day, Donald, for the rest of your day. I'm sure it's still packed.
And have a great day to everybody – we'll see you guys on the next Truelogic DX!
Donald: Thank you.
Bernard: Thank you. Cheers.
Subscribe To The Truelogic Newsletter
Learn more about our thought leadership and fresh insights on the trends taking place in the industry.